This site has pictures of body painting. For a kid friendly site go to allforaface.com

Creations on a living canvas to attract, promote, advertise, mystify, entertain, and impact.

The image is created to enhance the marketing of your company, product or service in a unique way.

Face painting and tattoos are not just for kids anymore! We have unique, fun services for the adults! Your opening night, your trade show, your fund-raising gala, your incredible theme party, and more are enhanced by our creative and fun entertainment options in the world of body art.

If your guests like to transform themselves, or you want to really ramp up attention towards your event, let us provide the face and body artistry.
We provide full or partial body painting. You can have a painted model strolling or posing for photos, or entertain your guests by having them watch the artwork come alive (models are partially clothed and/or painted to start). Logos or other brand visuals can be incorporated to reinforce your marketing message. Nothing gains the attention of an audience (or the media) than to have a live model sharing your message as a living canvas Rates are determined by design, timing and travel.
Bling, tattoos, fantasy makeup and body painting can be part of artistic entertainment for
bachelorette parties
adult birthday parties
ladies' night out
sororities, MOM's clubs and women's clubs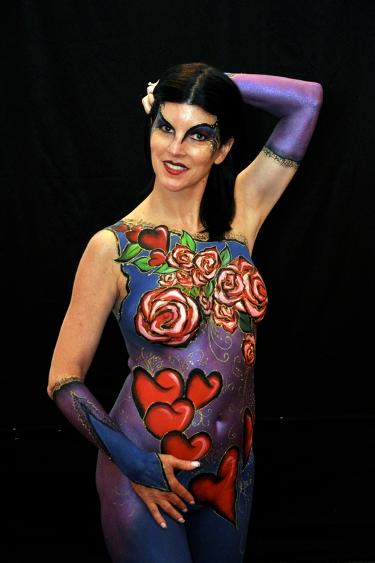 Body-painted clothing, logos, product advertisements expressed creatively on "meet and greet" talent
Models, Photographers, Artists, Competitions.
Prenatal belly painting for expectant moms-to-be: a lasting piece of artwork to document your transformation. Belly painting is a great gift or as entertainment for a baby shower.
Fantasy make-up and temporary tattoos for theme parties (with or without costuming), including painted floral, animal, horror, tribal, and fantasy designs for your party's guests
Body art for editorial, fashion, and photography in print or broadcast media
Body art demonstrated as entertainment in a living painted masterpiece at your show or event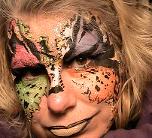 Available for any and all types of events,
private or corporate!!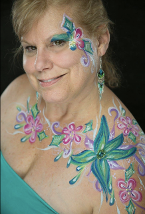 Special FX
for your Zombie Crawl or event. Catch the contagion and undergo "zombification"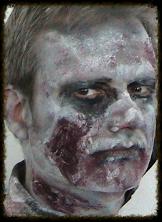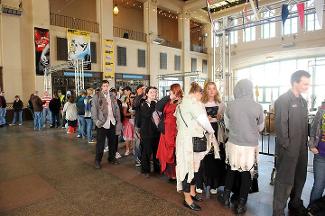 Body Art for corporate events, photo shoots, or private sittings.
Fully insured.
International Face Painting and Body Art Association (FPBAA).

Directory of Professional Make-up Artists.
Central Jersey Face Paint Artist Guild founder/member.
Face Paint Forum

member #504
All for a Fantasy Enchanted Face and body Art is a venture by Corinne Rodgers who is a professional artist with years of experience in providing her skills to many private and corporate events throughout the tri~state area, USA. If you are looking to add that wow factor to your event, hire the best body painter from TN with highest level of professionalism.
Corinne is now based in Hendersonville, TN and provides her art of face and body painting for all types of events. For family friendly events we paint areas of the body typically not covered by a modest bathing suit: ie: arms, legs, decoulette, shoulders, etc. Photo shoots, Birthday parties, Block parties, Family picnics, Corporate functions, Product launch, Promotions, Film projects, Daycare Centers, Office parties, Fundraisers, Graduation, Zombiewalks, Bar mitzvah, Bat mitzvah, Seasonal parties such as Easter parties, Halloween parties, Christmas parties, Theme parties such as a princess party, superhero party and much more.....
Corinne also offers her skills in: Oil Paintings, Acrylics, Collage art work, Watercolor paintings, Custom made invites, Greeting cards and Murals.


Serving Nashville and surrounding areas:


Family and Kid friendly "All For a Face" face painting
Davidson County: Nashville, greater Nashville area, Belle Meade, Berry Hill, Brentwood, Forest Hills, Goodlettsville, Ridgetop, Antioch, Bellevue, Bellshire, Bordeaux, Donelson, Hermitage, Lakewood, Inglewood, Joelton, Madison, Old Hickory, Pasquo, Whites Creek


Sumner County: Bethpage, Castalian Springs, Cottontown, Gallatin, Goodlettsville, Hendersonville, Millersville, Mitchellville, New Deal, Portland, Walnut Grove, Westmoreland, White House
- proms
- bridal showers
- teen events
- church programs
~ private parties
~ corporate events
~ school events
~ fundraisers
~ grand openings
~ baby showers

~ family reunions
~ festivals
~ fairs
~ Bar/Bat Mitzvah
- reunions
- children's parties
- sports events
- community events
- and more
To add to your events in Tennessee : Glitter tattoos, and Temporary Airbrush tattoos also available in addition to Corinne's exquisite face painting.

Corinne can also provide other skilled face painters for your larger events. Face painting for corporate events is available, Corinne and her team of face painters are professionals and follow a strict code of practice regarding hygiene, using clean sponges and brushes for each person painted.

We use only EU and FDA approved face paints and cosmetic products.

Corinne has a friendly approach to her clients and can provide Children's party idea or Kid's Birthday party ideas.

All For a Face provides:

Face Painter for Corporate event and Face painter for Birthday parties in TN
Face Painter in Middle Tennessee
Face Painter in Nashville
Face Painter in greater Nashville and surrounding areas

Face Painting TN * Glitters tattoos TN * Cheek art TN * Face Painters TN * Glitter tattooist TN * Face art TN
copyright 2018. All rights reserved
All For A Fantasy Face & Body Art, Hendersonville, TN 37075